Vacuum Contactor Replacement For 5 KV LimitAmp CR2814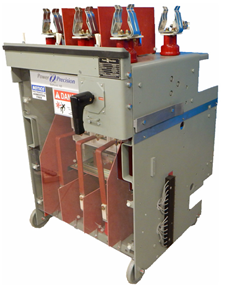 Vacuum Contactor Replacement For 5 KV LimitAmp CR2814
5 KV, 400 Amp vacuum contactor roll-in replacement for modernizing GE 5 KV Limitamp Motor Control Centers.

The Power Precision vacuum replacement for LimitAmp includes:
- Roll-in installation in existing GE Limit amp motor control centers without cubicle modifications.
- Mechanical interlocks to mate with the original cubicle.
- No asbestos.
- Insulated 5 KV bus.
- Vacuum contactor suitable for 250,000 electrical operations.
- Faster contactor opening (trip) time.
- 5 KV insulation barriers between fuse clips on the top of the contactor
- New 5KV fuse clip design for more reliable fuse connections.

Power Precision promotes recycling and sustainable use of materials and energy. We use parts from original contactors to build more contactors minimizing material waste. Power Precision will provide a $1,000 credit towards a subsequent Power Precision vacuum contactor purchase upon receipt of the original air contactor.