Vacuum Contactor Replacement For 5kV Ampgard II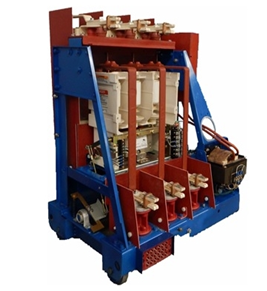 Vacuum Contactor Replacement For 5kV Ampgard II
5 KV, 400 Amp vacuum contactor roll-in replacement for modernizing vintage Westinghouse 5 KV Ampgard Motor Control Centers.

The Power Precision vacuum replacement for Ampgard includes:
- Roll-in installation in existing Ampgard motor control centers without cubicle modifications.
- Mechanical interlocks to mate with the original cubicle.
- No asbestos.
- Insulated 5 KV bus.
- Vacuum contactor suitable for 250,000 electrical operations.
- Faster contactor opening (trip) time.

Power Precision promotes recycling and sustainable use of materials and energy. Power Precision will provide a $1,000 credit towards a subsequent Power Precision vacuum contactor purchase upon receipt of the original air contactor.
The new vacuum contactors reduce maintenance, improve safety and prolong the life of the contactor without changing the MCC or switchgear lineup. The new vacuum contactors eliminate heavy arc chutes containing asbestos and contain the electrical arc within vacuum bottles for safer and faster operation. Vacuum contactors offer 250,000 electrical operations before requiring contact maintenance or replacement.