7.2kV Vacuum Breaker Replacement for Magne-blast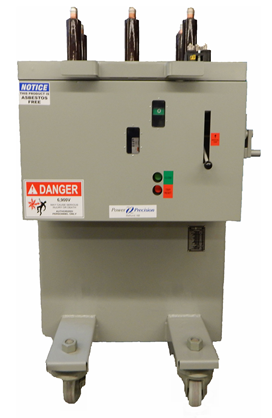 7.2kV Vacuum Breaker Replacement for Magne-blast
Electrically operated vacuum breaker was designed and built by Power Precision to install in existing 7.2KV Magne-Blast switchgear for improved arc flash protection.
Advantages of this new 7.2 Vacuum Breaker Include:
Electrically operated mechanism

eliminates high force impacts of the mechanical opening and closing mechanisms
eliminates wear and failures related to mechanical spring energy storage mechanisms
less maintenance
ideal for frequently operated circuits such as motor feeders
lighter weight reducing wear on breaker lifting mechanisms
faster operating time reducing arc flash reliability

Vacuum enclosed contacts for improved safety and reliability.
No asbestos arc chutes.
Mechanical and electrical interlocks to mate with existing switchgear.
Upgrade one breaker at a time on scheduled outages with no additional downtime.